If you have joined the group of collectors of exclusive automatic watches, you have probably already faced the choice of a suitable safe for your collection. However, it can't be an ordinary armored cabinet, protecting valuable resources from theft. An indispensable element of automatic watch cabinets are devices called rotators.
Watches that need movement
The mechanism of an automatic winding watch requires movement to continue its course. If such a watch is not worn for 30-40 hours, it will stop. The matter becomes more complicated with special, exclusive models, such as watches with moon phases or long-lasting calendars. Typically, for these models, the stoppage of the movement means that the watch must be returned to a specialized facility to reset the precise calendar.
Rotomat - a precise device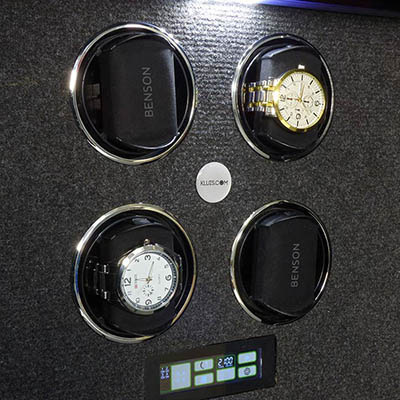 At first glance, the rotator may seem like an ordinary motor rotating in a given direction. Nothing could be more wrong. The heart of a good automat is a digital control system, in which you set the direction of movement, the number of revolutions and the cycle in which they occur. Without these settings, the rotator becomes unusable as automatic watches may have different requirements for their rotation. In Hunter Safes we install rotomats of the renowned Benson brand, with a touch panel that enables separate control of each rotomat inside.
Security behind bulletproof glass
Why hide beautiful watches behind steel doors. Elegant timepieces, placed on rotating machines, look very nice. Therefore, it is worth providing them with an appropriate, safe setting, making the entire collection a decoration of our office, bedroom and home. Our unique safe with armored glass and watch winders will be perfect here. Glazed safe door, with armored glass with two security levels BR2 (bulletproof) and P7B (anti-burglary/safe), turn the safe into an armored display case for valuable collections or works of art. The glass with the P7B safety class provides resistance to 70 blows with an ax or other sharp tool, preventing a quick breach of security. As a standard, we make cabinets in the security class S1 and S2. At the customer's request, we can make a safe in any class of burglary resistance.

The way you want it - unique
Our offer of PantzerGlass safes is aimed at people looking for exceptional things - matching their taste and personality. What your safe will look like depends entirely on you. The dimensions and color of the external body, as well as the arrangement and finishing of the interior are at the customer's disposal. Thanks to this, the watch safe that we make for you will fit into the interior of your home or office. Internal lighting with LED strip will effectively highlight the precious collection. Our safe, made by masters of craftsmanship, will become a showcase of your good taste, a symbol of wealth and elegant style.
This page has been translated automatically. If you see any errors - write to us. We will be grateful for your help.