PantzerGlass safes are designed for people who want to be able to show their collection of guns or valuables without neccessity to take them out of the armored cabinet. Sometimes, however, it happens that to people who visit us, we don't necessarily want to show what is inside our home/office.
Maybe it's better not to show?
The thought that everyone in the room will see our precious collections can effectively discourage us from buying a safe with a glass door. The option of covering the glass with an internal roller blind is problematic and not very interesting.
Electronic curtain
Currently, we have a solution that solves the problem of permanent visibility of items secured in an armored cabinet with glass. Smart foil, controlled by electronic voltage, turns a transparent glass into a milky surface in a fraction of a second. Just press a button and you're done.
Smart foil functions can be controlled in three ways:
remotely, using a dedicated remote control
smartphone, after installing a dedicated application
with a stationary switch mounted on the wall of the room to which the cable from the cabinet is connected
After turning on the power, the foil becomes transparent, and when turned off, it turns into a milky matt, providing 100% coverage. The viewing angle through the foil with the power on is 150 degrees.
We offer the possibility of installing smart foil in every PantzerGlass cabinet.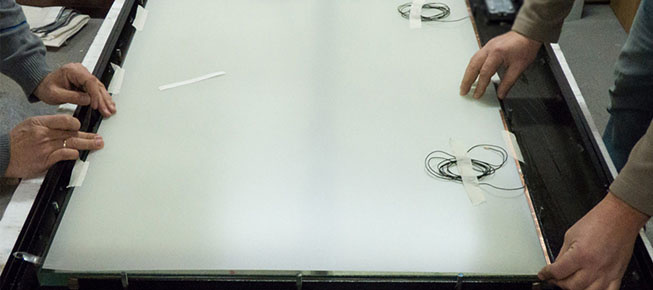 After choosing the option with smart foil, our technicians will stick the foil to the glass during the assembly of the safe door, carefully hiding electronic wires and other components in the body.
Basic technical data of smart foil:
Light transmittance in transparent mode> 80%
Viewing angle with power on 150 degrees
UV blocking over 99%
Response time 20 ms
Power consumption 5W/m2
Temperature of use from -30 to 100 degrees Celsius
Lifetime over 50,000 hours
This page has been translated automatically. If you see any errors - write to us. We will be grateful for your help.