Along with the growing wealth of the society, we can notice a growing fashion for collecting luxury things. Many rich people are becoming to collectors. Some people collect unique things out of passion or the desire to impress their friends, others treat it as a good investment for the future.
Collecting limited bottles of whiskey has been gaining popularity for some time. It turns out that such a hobby can be a good investment. The most expensive bottle of whiskey in the world in 2018 was sold for 700,000 pounds. It's true that it is unlikely that You will be able to sell all bottles of collectible whiskey for such money, but it can certainly be said that this activity requires a wealthy wallet. A full bar of such a collector can be compared to a safe with jewelry from the best goldsmiths in the world.
Due to the fact, that the value of the exclusive whiskey collection may be exceed the sum of several dozen or several hundred pounds, such collections require protection against accidental damage or theft. Such bottles shouldn't be stored in an ordinary wooden cabinet, which can be forced through with one hit of an ax. So the first thing that comes to mind, is a burglar-proof, armored safe. On the other hand, hiding unique bottles behind the steel door of an armored safe doesn't allow the collector to freely display his valuable drinks. It's in mind of collectors, who want to ensure the opportunity to present their best whiskey, without constant worrying that the bottles will be stolen by a thief or accidentally opened by their guests, we have created a whiskey safe with a bullet-proof glass on the front.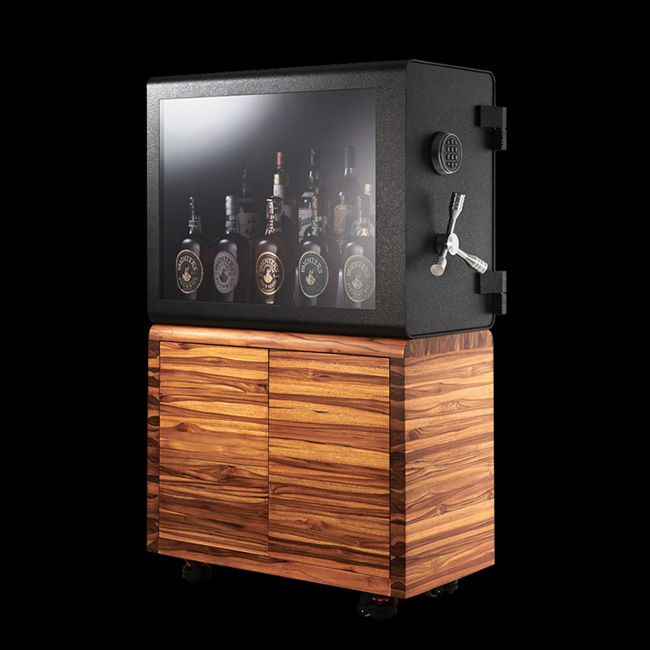 We can make a whiskey safe for you similar to the one in this photo.
Our safe for precious whiskey from the PantzerGlass line, is a product that no serious whiskey collector should miss. Just like bottles of high quality whiskey, the PantzerGlass display-case will be the best investment. The glass-case is perfect for showing any unique liquors. The presented collections are protected by an armored casing and bulletproof glass. Our whiskey safe is a handcrafted steel body with a vault door that has five 25mm locking bolts (3 horizontal and 2 vertical). The valut door is secured with a certified electronic lock. It is up to the customer to choose whether his safe will be opened using a standard digital keyboard or a fingerprint reader. In addition, a stylish three-spoke handle - chrome or in gold and silver color. Glass shelves and internal RGB LED lighting will highlight Your treasures. Using a dedicated remote control or a smartphone, the user can remotely select the color and brightness of internal lighting.
Since 2015, Hunter Safes has been specializing in the production of gun cabinets with bulletproof glass in the door, which we call PantzerGlass in our company. Already during the first years of production, it turned out that PantzerGlass cabinets appealed not only to gun collectors, but also collectors of other valuable things, because the owners of such collections like to see them and show them to their friends. Taking your treasures out of the safe every time can be tiring then. Therefore, armored PantzerGlass cabinets with a bulletproof glass in the door or on the front can be purchased not only for storing bottles of exclusive whiskey, but also for effective protection and display of all other valuable items: jewelry, expensive watches, works of art, etc.
From now on, all valuables that you own and want to show can be placed in the Pantzerglass safe in a place visible to your guests. Enjoy your collections and let your guests watch them!
Contact us - together we will create a PantzerGlass safe especially for you.